---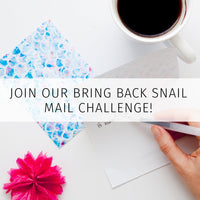 Bring Back Snail Mail Letter Writing Challenges
Three letter writing challenges to help you get back into your letter writing groove!
Let's bring back snail mail!
Remember the olden days when people wrote letters to each other?
When we had to wait more than five seconds to receive a response from a friend?
I email, text, and tweet on a daily basis but have to admit that I still LOVE receiving real mail (as opposed to junk mail and bills. Those don't count.)
These three letter writing challenges have been taken by thousands of letter writing lovers around the world, and I've finally compiled them in an easy-to-navigate course for YOU!


I actually had a chance to use a sheet of your stationery to write a letter yesterday. Thank you so much for those. They are so cute. I have 4 letters to write this week and I'm so excited! — Leilani

Thank you for helping me to rediscover my passion for writing! — Meredith

I thought you had great ideas about who to send notes to. I LOVE letter writing and card sending and now I have some new ideas about who to send notes to. — Elizabeth

You will receive access to all THREE of my snail mail challenges:
The Bring Back Snail Mail Challenge,
The Pay it Forward Challenge, and
The 30 Day Mailbox Love Challenge
You'll ALSO receive printable stationery and calendars, prompts, and other freebies throughout this course.

You're going to LOVE this! Let's send out some letter love into this world!
Since technology differs over devices, I am unable to provide personalized technical help for downloading products.
However, below are some basic downloading instructions. You can also search on Google for additional help for your particular device.
All of my printables and eBooks are sent in PDF format. Most computers and phones are equipped with Adobe Reader (which is free.) You will need to download Adobe Reader (or something comparable) in order to view the PDF. Click here to download Adobe Acrobat Reader.
After completing a purchase you will be directed to the order complete page thanking your for your order. When first viewing the order page, a box on the left side will say, "Preparing your downloads." If you stay on the order page for 3 to 5 minutes the preparation will complete and the "Download Now" button will be displayed. You will also receive an email with a button that says, "View your order," click the button to open the same order page with the, "Download Now" button.
Click the "Download Now" button to save the PDF file to your PC's desktop. Some computers automatically download the file into the Downloads folder. If you still cannot find the file, use the Search function on your computer to find it.
Some of the bundles are sent via a ZIP file. Many phones do not have the ability to download files like ZIP files. You might need to use your laptop or PC to "unzip" the file. Here is how to open that file ("unzip" it):
On a laptop or PC: Save the ZIP file to your computer, right-click and select, "Extract All." This will create a new file on your computer which you can open to get your digital printable files.
You will need to add the file(s) to iCloud, Dropbox, or OneDrive in order get the files on your mobile device. You might need to plug your phone in order for this to work.
On a mobile device: Before you download the ZIP file directly to your mobile device, you may need a free app to unzip the product. This will allow you to unzip the folder to access it.
I recommend using a color printer in order to print the printables in my collections. It is easier for most customers to print directly from a laptop or desktop rather than printing from a phone.