---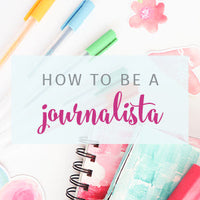 Join the Journalista Challenge {Online Journaling course}
Join us as we explore the varied and fun world of journaling in the Journalista Challenge!

Have you ever wanted to start journaling? Maybe someone gave you a beautiful journal as a gift years ago, and it's still languishing empty on a bookshelf. You like the idea of journaling, but sitting down to write out everything you did each day sounds . . . boring.
Or maybe you used to journal but for whatever reason, life got in the way and you stopped your practice. You remember how much it helped you process your life and how it was like a stress reliever wrapped in a book and pen . . . but you're out of your groove and would like some help to get back into it.
Or maybe you're a journaling maven, always on the lookout for new, creative ideas and ways to express yourself through writing and art.
If any of these describe you, you're in for a treat.
The Journalista Challenge is officially here!
The modules included in this course are:
Welcome to the Journalista Challenge
Traditional Journaling

Journaling Myths and Prompts to Get Started

40 MORE Journaling Prompts

Art Journaling

Art Journaling is for Everyone
Tips for Starting Your Art Journal
Four More Ways to Fill Up Your Blank Journal
How to Use Preprinted Backgrounds in your Art Journal

Bullet Journaling

Bullet Journaling for Newbies

How to Make a Simple Bullet Journal

Easy Bullet Journaling - My Story and Method

Setting Goals
Gratitude Journals

Keeping a Gratitude List
Gratitude Journals I've Used and Loved

Thank you and a BONUS!
Journaling Resources
Art Journaling Resources
Happy Journal Resources
Bullet Journal Resources
Traditional Journal Resources
Excerpt from my book, Happy Journal, Happy Life
**Note: This course is hosted on Teachable and requires that I add you to it manually. Within 48 hours of receipt of payment, you will receive a notification from Teachable letting you know you've been added to the class.Thanks for understanding! :)
Since technology differs over devices, I am unable to provide personalized technical help for downloading products.
However, below are some basic downloading instructions. You can also search on Google for additional help for your particular device.
All of my printables and eBooks are sent in PDF format. Most computers and phones are equipped with Adobe Reader (which is free.) You will need to download Adobe Reader (or something comparable) in order to view the PDF. Click here to download Adobe Acrobat Reader.
After completing a purchase you will be directed to the order complete page thanking your for your order. When first viewing the order page, a box on the left side will say, "Preparing your downloads." If you stay on the order page for 3 to 5 minutes the preparation will complete and the "Download Now" button will be displayed. You will also receive an email with a button that says, "View your order," click the button to open the same order page with the, "Download Now" button.
Click the "Download Now" button to save the PDF file to your PC's desktop. Some computers automatically download the file into the Downloads folder. If you still cannot find the file, use the Search function on your computer to find it.
Some of the bundles are sent via a ZIP file. Many phones do not have the ability to download files like ZIP files. You might need to use your laptop or PC to "unzip" the file. Here is how to open that file ("unzip" it):
On a laptop or PC: Save the ZIP file to your computer, right-click and select, "Extract All." This will create a new file on your computer which you can open to get your digital printable files.
You will need to add the file(s) to iCloud, Dropbox, or OneDrive in order get the files on your mobile device. You might need to plug your phone in order for this to work.
On a mobile device: Before you download the ZIP file directly to your mobile device, you may need a free app to unzip the product. This will allow you to unzip the folder to access it.
I recommend using a color printer in order to print the printables in my collections. It is easier for most customers to print directly from a laptop or desktop rather than printing from a phone.